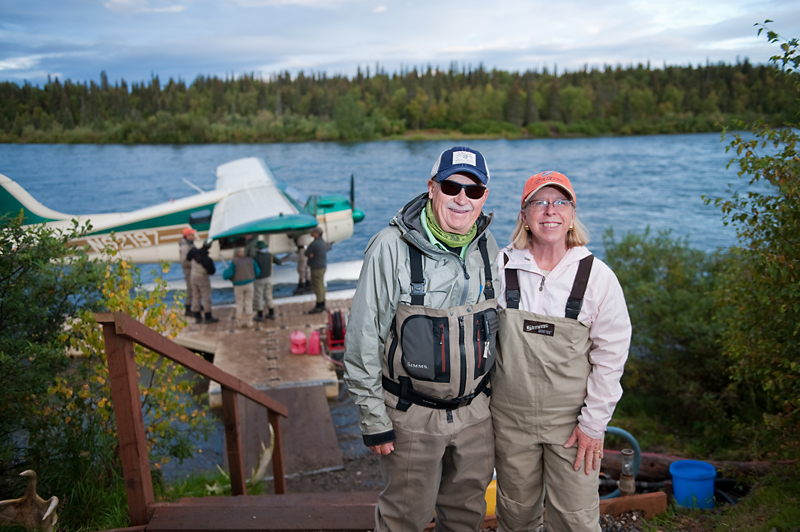 Join me at Royal Coachman Lodge in Southwest Alaska
September 1 to 8
, 2024
Why Royal Coachman Lodge? – Because, quite simply, it's one of the finest Alaskan fly-out lodge I've ever experienced. The lodge is small by Alaskan standards, with just 10 to 12 fishermen per week. You'll feel like you've gone back in time 40 years, and the best part is that you'll feel like family; it's all about the crew!
A Truly Remote Alaskan Experience – Located 45 minutes north of Dillingham, on the headwaters of the Nuyakuk River, Royal Coachman Lodge is ideally located to fish all points of the compass… and we do!
Why the week of September 1 to 8? – The first week in September is one of my favorite weeks of the season; the silver salmon run is at its peak, Dolly Varden and Arctic char have concentrated in anticipation of their fall spawning, and the rainbows have been feeding on salmon eggs for months… they're in prime shape! This is also the week of transition; the Alaskan landscape becomes fully cloaked in its autumnal colors. It's a sight to see.
Home Water
– RCL is ideally situated as a fly-out lodge… and it has incredible local water as well. Some of the largest rainbows of the season are caught within a short boat ride of the lodge. It's the best of both worlds!
The Fishing – There is no set fishing rotation. RCL has a completely flexible fishing program, and we'll do our very best to accommodate your fishing goals for the week.
A Hosted Experience
– I've fished and guided in Southwest Alaska since 1984, and this is one of my favorite experiences… and it seems to be a favorite of a lot of other folks.
2024 Season Rates – $12,200 per person per week. Group discounts are available for groups of 4 or more. The package includes all meals, lodging, flies, transportation between Dillingham and the Lodge, 7 nights and 7 fully guided daily fly out trips (weather permitting).
The package does not include transportation to Dillingham from Anchorage ($770 per person round trip charter flight), personal gear, rods, reels, liquor, King Salmon stamps (if appropriate), fishing license, the possibility of a fuel surcharge (we have had one in 30 years) or gratuities. The lodge has a limited amount of gear available for guest use. They offer weekly rod/reel rentals for $75 per person and weekly boot rental for $25.
Please let us know if you have any questions, or if you'd like to join us!
Visit the Royal Coachman Lodge website to read more details.
Photos by Aaron Otto, Aaron Otto Photography.