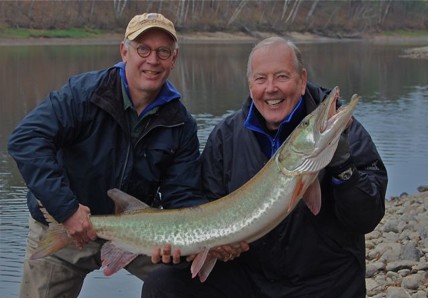 Much of my summer in Alaska was cold and wet, and upon my return home, I was plenty ready to not guide for a long, long while… like for nine months.
When I noticed in the closing words of an email message from a friend, that he was, 'looking forward to guiding with me next week', I asked Lisa, "Do you know anything about a guide-trip next weekend?" There was more than a bit of panic in my voice.
"Sure," she replied. "Don't you remember telling Kip, before you left for Alaska this spring, that you were going to help him with a big group of musky fishermen?"
"I told him I'd 'think' about it," I said. "I've never guided exclusively for musky before, and I don't want to come off like a jerk." When I realized that I was trapped, I shook my lowered head. "What's the weather supposed to be like?" I asked, finally accepting the inevitable, but hoping to at least stay dry.
"It's supposed to be cold and rainy, with high winds," Lisa replied. "Do you want me to bake some cookies for your shore lunches?"
"Sure." It was all I could think to say.
I arrived at camp late, because I got lost along the way, met my fishermen for the following day, and had a few beers as I caught up with some old friends. Eventually, they showed me a map of the river I'd never floated, and explained how the shuttle would work.
I became disoriented the next morning, because couldn't recall how many times I'd crossed the river while driving the shuttle. Upon my arrival back at the boat, we loaded up, and I began to push it upstream. It was a bit of a struggle, of course, but I told myself that the wind was stronger than it looked. After a hundred yards, one of the fishermen politely asked why we were fishing upstream, when it was his understanding that I'd left the truck and trailer downstream.
"It's the wind," I replied commandingly. "It's blowing much stronger than it looks." Then, as I watched a maple leave float past I realized that I was an asshole, who didn't know upstream from down.
It must have shown on my face because the second fisherman asked, "You've done this before, right? I mean guided for musky?"
It was time to come clean. "Nope… not really."
"But you've guided… right?"
"A little bit," I replied. "Look, let's just all do our best, and make a day out of it."
We had a nice float and actually moved one fish, which didn't eat.
That evening, it was announced over dinner that the following day I'd fish with Bill, the father of the disenchanted brothers whom I'd just guided. I think dad had decided to fall on the sword for the sake of his boys. Still, he was a good enough guy… and we hit it off just fine. His buddy, Jim, seemed decent enough too.
Since I'd been on the river for one whole day, and had its direction down pat, I went to bed feeling good about the coming day
In the morning, we moved four really good fish within the first two hundred yards, but had no eats. Then it happened; a good fish blew up on Bill's fly and we had a musky hooked for a few seconds… before it came unbuttoned.
Just minutes later Jim tossed his fly into a tangled deadfall. As he stripped it clear a forty-plus inch musky exploded on it, and the water erupted. Jim's rod bent double as the line came tight… and then went sickenly slack. The toothy bastard had cut through my 80-pound floro shock tippet like a hot knife through butter. Shit.
We rowed back up to the top of the pool for a second drift, but before we could cast, the big fish free-jumped twenty feet from us shaking his head in a frantic effort to rid itself of the fly we'd left in his mouth.
Two casts later, while doing a deep figure eight under the boat, Bill announced that he was stuck, fast to the bottom. But, the bottom suddenly moved upstream!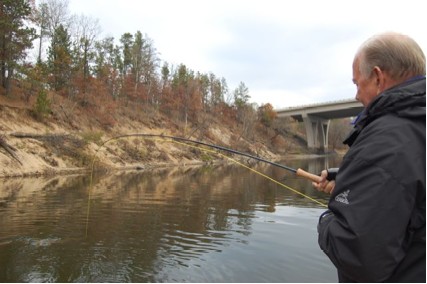 We were solidly hooked to a good musky, and the fish went deep… where it stayed for a good long time before Bill worked him to the surface and we got a look.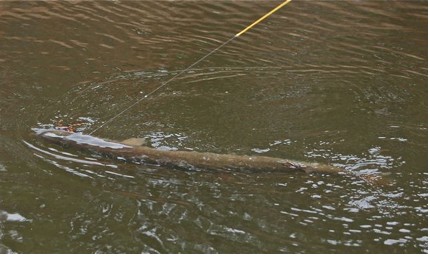 My new best friend played the big fish well, and before you know it, there was a musky in the net, and on the beach.
Without a tape, we reckoned the fish to be about fifty-inches. Not a bad start, my buddy's first musky… and mine too! Both our hands were shaking so badly, that when we went for a high-five… we nearly missed each other and fell down in a heap. Jim snapped off a few photographs before we released it, and we marked an oar with the fish's length… to be taped later. It turned out to be less than we thought… but just barely.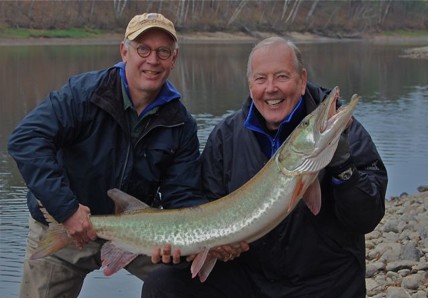 There's an old adage that goes, 'you know it's a really good fish when your guide wants to have his photo taken with it'… and I shamelessly did.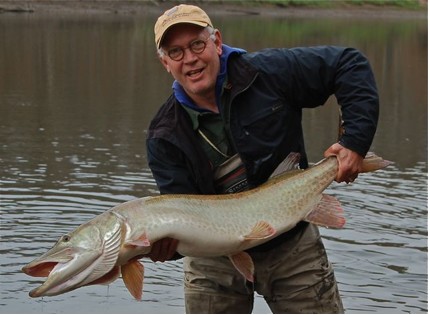 We decide to repeat the drift, one last time, and as I pushed upstream, Bill continued to cast. As his fly drew near the boat, my oar came down on another musky, hitting him right between the eyes. I got soaked from the geyser of water, and the fish was gone.
The clouds melted away with the passing hours, and as the sky turned blue the bite turned off.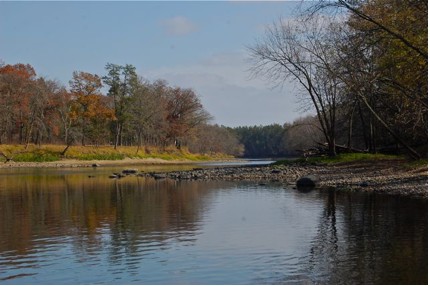 It was a nice enough float. Bill sat quietly in the back of the boat and basked in the glow of his great fish, leaving most of the water to his buddy in the bow. Except for the odd smallmouth bass, things were pretty quiet. We didn't tag many bass, but those we did were all big, and in great shape.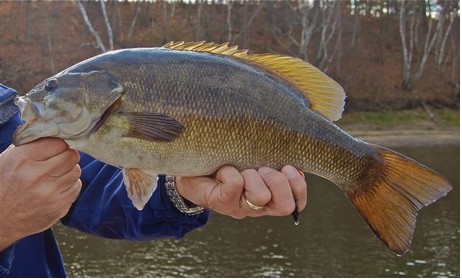 At the last bend, before our take-out for the day, Bill announced that perhaps he'd make one or two more casts. He limbered up his rod, as the low sun warmed the sandbank to our front and made the cast. The fly danced seductively to the boat… where it disappeared in an enormous boil.
One last cast… one last musky!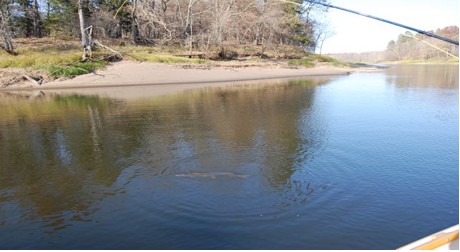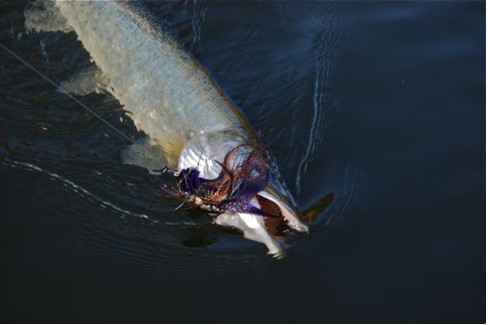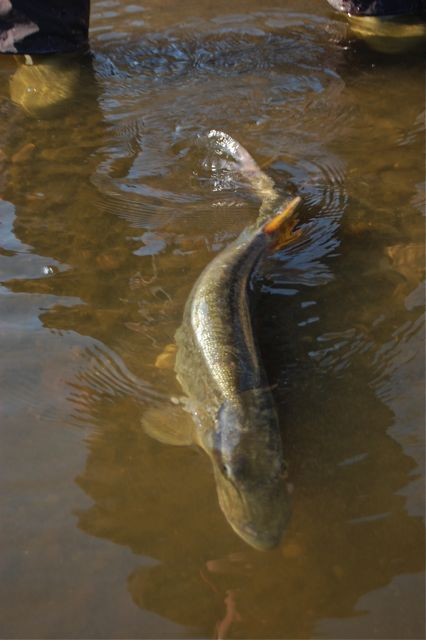 Not bad for the first time out…
Now that I've figured out which way the river flows, I've decided to do a trip next year. If you'd like to join me and my friends for a three-day musky trip next October, give me a shout and I'll give you the dates and the cost. We currently have room for eight fishermen.