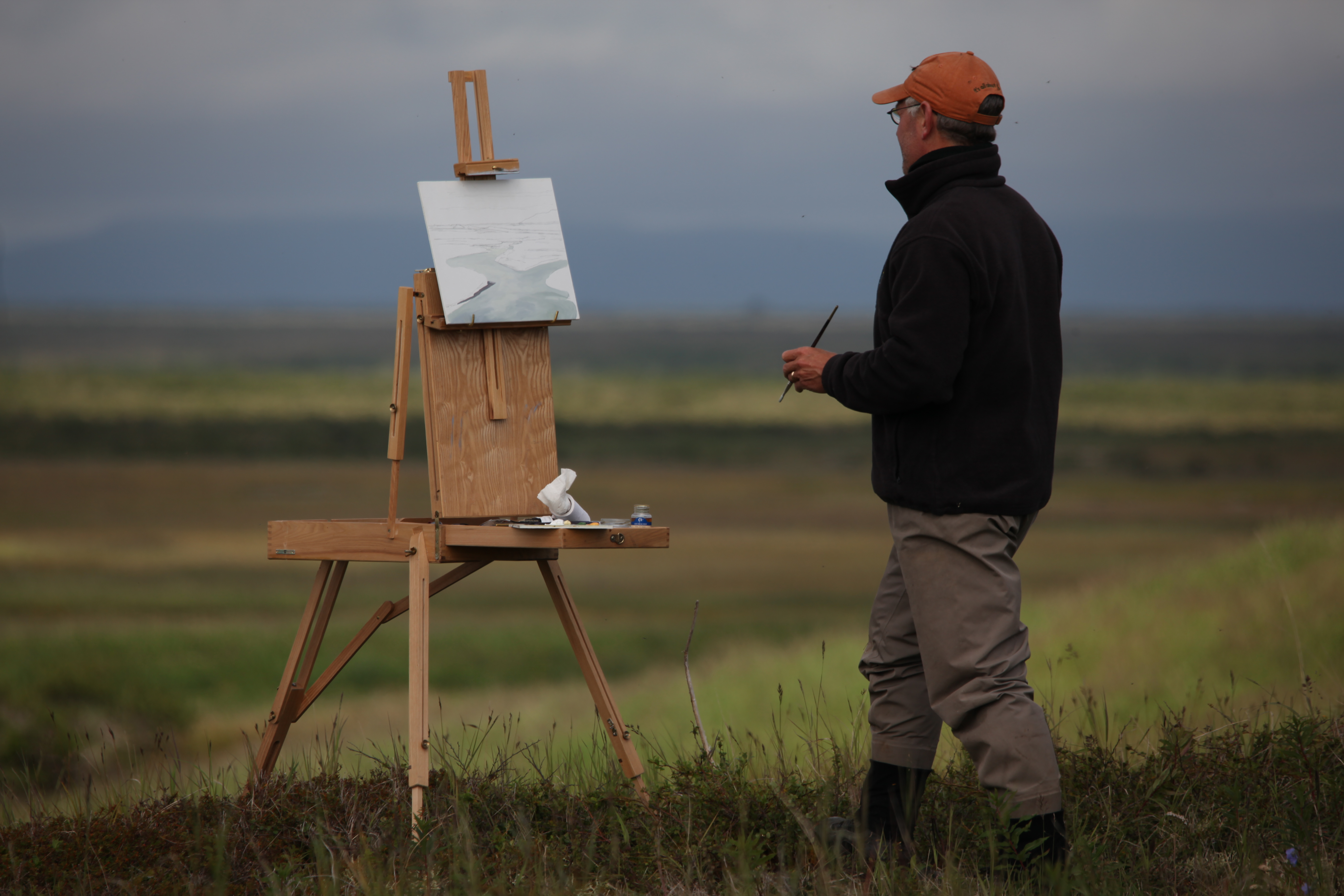 In the summer of 2009 my friend, Steve Laurent, who owns and manages Bristol Bay Lodge, invited me to visit. As you might imagine, our discussions went long into the night.
"Wouldn't it be wonderful," I asked, "if we could somehow blend fly fishing and the arts in an Alaskan setting?"
Steve's answer was short and to the point. "Why not? Let's do it!"
The following summer my friend, the photographer Mike Dvorak, accompanied painter Mike Savlen and me to Bristol Bay Lodge for a week-long trial run, and the Artist-in-Residence Program was born.
Mike Dvorak documented that first program in this slideshow.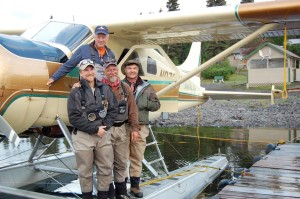 The Artist-in-Residence Program was created on the premise that every one is touched by art, but few have the opportunity to witness it's creation, or have meaningful conversations with those who produce it. The programs at Bristol Bay Lodge expose the lodge's guests to writers, poets, painters, print makers, photographers, song writers and musicians in a manner that enriches their experience and encourages them to support the arts.
The summer of 2015 marked the sixth consecutive season of art programing at Bristol Bay Lodge. Over the years some of the outdoor industries most significant talents have been hosted. Writers, John Gierach, Scott Sadil, Don Thomas, and poet Larry Gavin have entertained the lodge's guests with their readings and insights into the writers' craft.
Outdoor photographers, Tosh Brown, Mike Dvorak, Brian Husky, Jess McGlothlin, Per-Anders Nilsson, Aaron Otto, and Tim Romano, have not only captured the images of southwest Alaska while at the lodge, they've shared their knowledge and experiences with the guests.
Sporting artists, CD Clarke, Richard Harrington, Jeff Kennedy, Paul Puckett, Mike Savlen, and gyotaku print maker, Scott Wells have joined me to record on paper and canvas our interpretations of the sights seen every day by those lucky enough to fish at Bristol Bay Lodge.
Additionally, songwriter Scott Laurent, has hosted some of the biggest songwriting talent in Nashville. Past summers have included Wynn Varble, David Turnbull, Bruce Wallace, Jonathan Lawson (of the Railers), Earl Bud Lee, Jay Clemente, Radney Foster, Justin Adams, and many others.
This past summer, I painted with photographer, Jess McGlothlin, and Minnesota poet Larry Gavin.
Jess McGlothlin has always had an affinity for the outdoors and travel. She grew up playing in the wide-open spaces of the West, and is most at home on the road in wild and rugged places, where she can typically be found with either a camera or a fly rod in hand. Sometimes both.
Jess is a passionate writer and photographer who brings a unique, energetic perspective and approach to her work. Her written word is bright, bold, and honest. She is a keen traveler and is available at any time, to any location for assignments.
Jess covers a wide ranges subjects, from Western rodeos to fly fishing far above the Arctic Circle in Russia. She has successfully covered everything from international advertising campaigns to multi-day survival training sessions in remote, challenging environments, to exploratory fishing trips. Her work has been featured in gallery shows from Germany to Israel, and she has received international awards and recognition for both her writing and photography. Jess is available for contract, editorial, and assignment work.
Most recently, Jess has been named Director of Communications for the American Fly Fishing Trade Association.
Check out her fly fishing images here.
Larry Gavin focuses on the natural world. The world of forest, prairie, stream, and the power that world has to heal us and make us whole.
He believes poetry explores the tiny, and that exploration forces us to think about the big things that make us most human: eternity, desire, entropy, hope and love. And, says that, "through language, order is created, and through the natural world, and participation in it, we participate in being fully human. It is that humanness that the language celebrates. Nature can make us well, help us to understand the world, and help us praise all those things that make us our best."
Larry's poetry is part of that celebration. Part of the gratitude felt at being in the world. He believes that writing it, "declares our humanness out loud."
Larry Gavin is a poet essayist and translator. His work has appeared widely. He has four books of poetry: Necessities, Least Resistance, Stone and Sky and the 2014 Initiation of Praise. He is the editor of Tumbling Crane, a post card magazine devoted to the Haiku in English.
His prose and essays have appeared in Gray's Sporting Journal, Gun Dog Magazine, Fly Rod and Reel, Midwest Fly Fishing, Minnesota Monthly, The Minneapolis Star Tribune, Outdoor News, The American Review, The Native American Quarterly and other publications.
His work is anthologized in: Minnesota Seasons, Classic Tales of Life Outdoors, Farming Words,County Lines, Perfect Dragonfly: The Red Dragonfly Press Anthology.
A brief stint as an actor included a performance in the Emmy winning, How to Talk Minnesotan produced by Minnesota Public Television.
He's a fly fisherman, avid reader, relentless mountain biker, and a fine hand with scent hounds and bird dogs. He lives in Faribault, Minnesota.
Larry wrote this piece of poetry while at Bristol Bay Lodge and premiered it in a reading to the guests.
Mending 
Like those parts of me
That must be made whole
Those parts I don't recall
Being broken, but instead are like clouds
Descending –
A soul tugged beneath the surface.
I must recover, repair,
Set things right, atone.
Currents seams make their own rules
I can 't see
The water reflecting just tells me
About me. I'm doubled, and therefor,
Twice faulty, and mend to make things right,
The drift true. All set back in motion
Like clouds descending,
Like a hundred sparrows
Gathered in a stream-side pine
Their tiny bones whisper
"Live without weight in this world."
We're excited about next season, and look forward to announcing the participants in Bristol Bay Lodge's 2016 Artist-in-Residence programs!