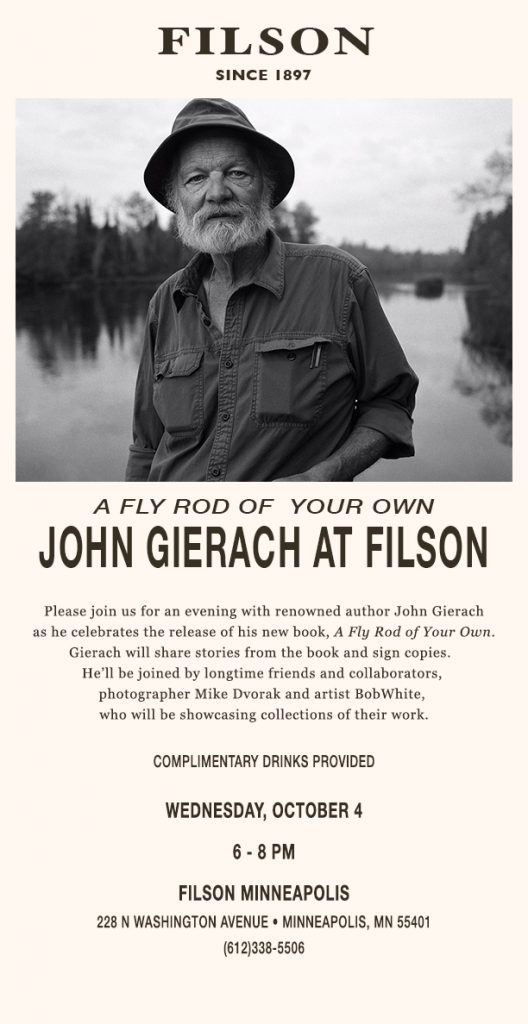 FILSON – MINNEAPOLIS
228 Washington Avenue North
Minneapolis, Minnesota
Wednesday, October 4, 6:00 – 8:00 PM
Join author John Gierach at the Minneapolis Filson Store, and help us celebrate the release of his latest book, A Fly Rod of Your Own.
John will read selected stories from the book and sign copies, which will be available at the store. Bring your other Gierach books, and John will be happy to sign those as well!
His longtime friends and collaborators, photographer Mike Dvorak and artist BobWhite, will join him and showcase collections of their work.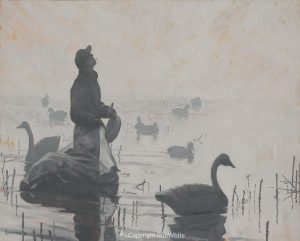 EDGE CENTER FOR THE ARTS
101 Second Avenue
Bigfork, Minnesota
Sporting Art Show: October 5 – 28, 2017
Opening Reception: October 6, 2017 5:00 – 7:00 PM
When my friend, Al Gustaveson, approached me about a show of sporting art he was planning to coordinate at Edge Center for the Arts, in Bigfork, Minnesota, I excitedly accepted. What a wonderful opportunity to be included, and to hang my work with several friends.
If you have the opportunity, stop in and review the very wide variety of sporting art on exhibition!
Featured Artists: Betsy Bowen, Michael Furtman, Jim Hautman, John Koch, Tim Turenne, Bob White, and Dan Wiemer
Edge Center for the Arts, Bigfork Minnesota
Gallery Hours: Thursday, Friday, Saturday 10:00 am to 4:00 pm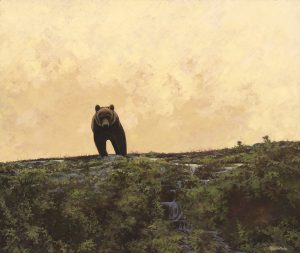 AT THE CONVERGENCE
LEIGH YAWKEY WOODSON ART MUSEUM
700 North 12th Street
Wausau, Wisconsin
October 5 to 8, 2017
Held in conjunction with "Birds in Art 2017"
I'm very honored to have been invited to participate in this first annual gathering of like-minded people to confront, through art, writing, and conservation science, the forces that threaten our rich outdoor legacy.
"At the Convergence" is an intentional gathering of outdoor artists, writers, and conservation scientists who celebrate and fight for the natural world.
Join outdoor writer, John Gierach, photographer Mike Dvorak, forest ecologist Alan Haney, conservation biologist Eric Andersen and myself for an exhibition of paintings and photography, readings, and panel discussions. about the intersections of the arts, humanities, and science in environmental stewardship.
Art and Writing Workshops
Gallery Tours
Panel Discussions
Book readings and signings
Reception Saturday Night
No registration is necessary. Come any day and it's always free thanks to the generous support of Leigh Yawkey Woodson Art Museum and the chapters of Wisconsin Trout Unlimited. Visit the Convergence website for more information and schedule of events.