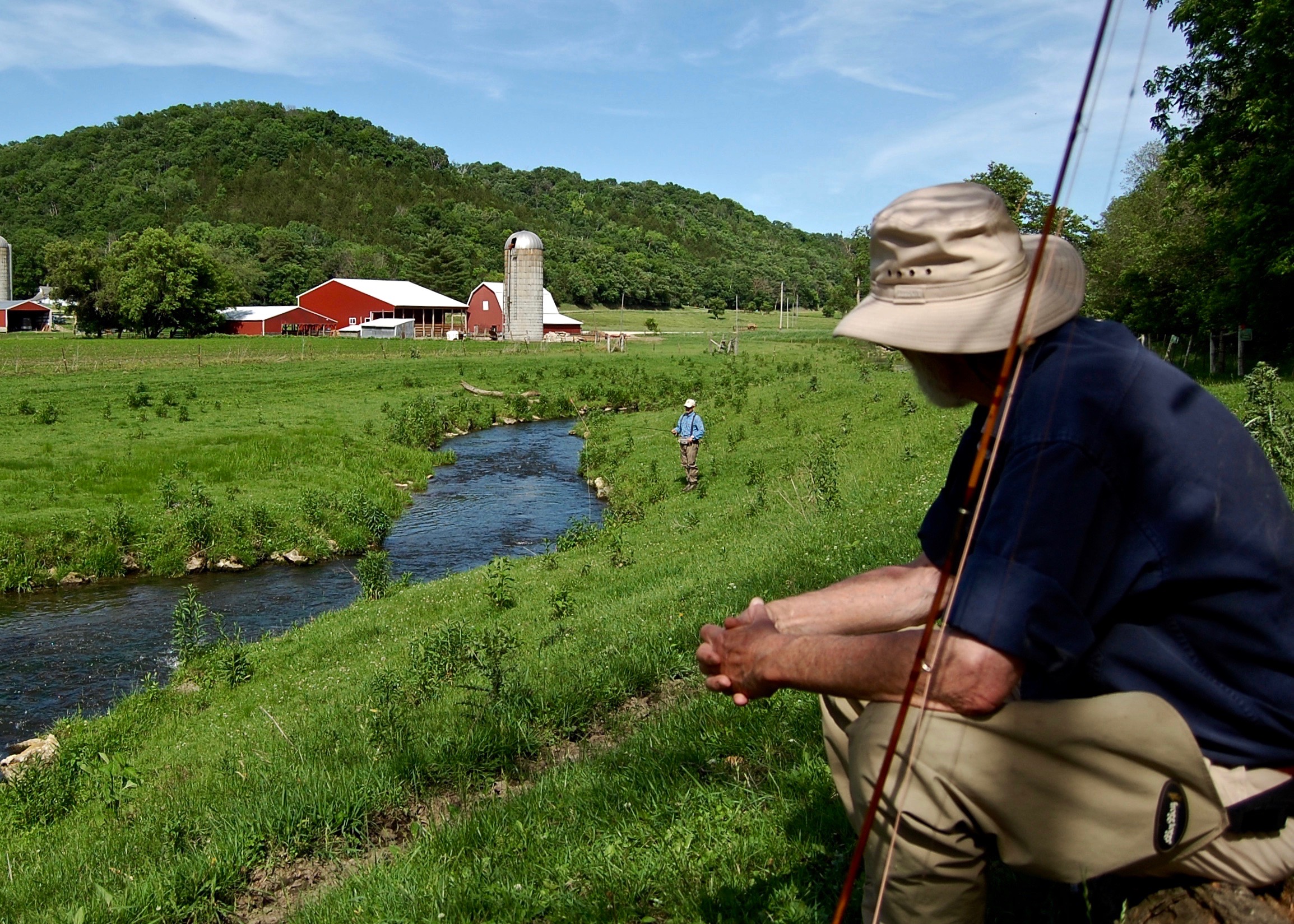 My friends, Mike and John, and I planned a late spring fishing trip to Minnesota's Driftless region. The timing was perfect; the hatches would be at their peak and the rivers low and clear.
And, it would have been perfect… if it hadn't started to rain. As we drove south from the Twin Cities multiple thunderstorms pummeled the area with up to nine inches of rain.  Tornadoes touched down to the south of us, and Decorah, Iowa was flooded for the second time in as many weeks.
Every river we crossed was swollen beyond its banks and ran the color of a latte… with extra milk. Still, Mike, who'd organized the trip, remained positive, even upbeat about the fishing. We were told that the tributaries to the larger rivers are, for the most part, spring-fed and remain fishable even after the severest deluge. John and I, as well as Mike's dog, "Moose" remained guardedly skeptical.
The first day we fished a meadow stream born from two spring creeks. While a bit off-color, it fished well. The larger of the two spring-fed tributaries was clear and fished like a dream. We leap-frogged up the stream, trading water as good friends do and we all caught fish… surprisingly large fish, given the size of the creek.
My intention for the trip was two-fold; spend time on the water with my friends… and get in a bit of plein air painting.
The second day dawned warm and muggy, with humidity so thick that it veiled the landscape and softened its edges. I love to paint atmospheric effects on the landscape and suggested to my friends that they carry on without me while I kept company with the steers that roamed the pasture where I set up my easel. When Mike and John returned later in the day, "Pasture Stream" was finished.
And so, the week unwound. The weather cleared and the rivers dropped. Minnesota poet, Larry Gavin, joined us for a day, and we enjoyed a wonderful mix of fishing and painting.