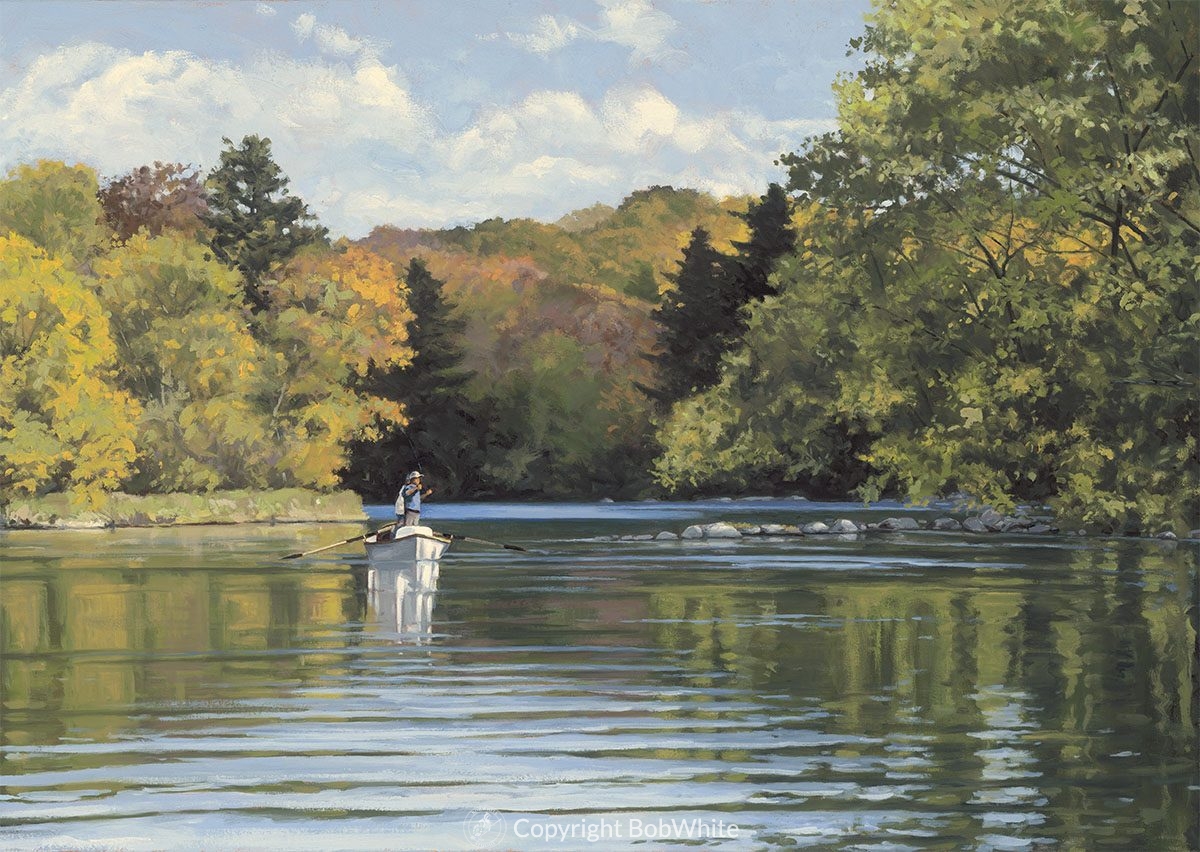 "There's no place like home…"
~ Dorothy in The Wizard of Oz
The grass always seems greener on the other side of the fence. Like many fly anglers who've answered the call of distant waters, I've acquired priceless experiences, but lost my perspective.
Traveling to fish appeals to me. It's fun to explore different cultures, see new water, and cast to fish I'd never caught before. Eventually though, I began believing that I had to travel to find good fishing — and that the further away I went, the better the fishing would be.
Over the years, I've had the good fortune to fish in some remote and exotic places. Unfortunately, I also stopped appreciating the adventures available in my own back yard.
My perspective on the need to travel afar to have good fishing began to change a few years ago when a friend offered to take me out for the day. "I'll pick you up at your house," he said. "You're right on the way, heck, you live less than an hour from some of the best water on the river!"
I have to admit, I was skeptical that there was quality trout fishing so close to home. But, my friend was enthusiastic and excited to show me his favorite water. I was ready at the crack of dawn the next morning.
An hour's drive from my home we entered a woods carpeted with trillium and crept to the edge of a sandstone bluff that guarded a sweeping bend in the river.  The low morning light danced on the stream below and lush weed beds undulated in the crystal clear currents. I blinked hard at the sight and had a tough time believing that I wasn't in Argentina or perhaps even New Zealand. "Do you see him?" Tony asked. "The big guy?"
"Near the tail out," I said. "He's down stream from the big rock, in the shade of the weed bed. He looks to be at least 18 inches. Nice fish."
"No, the big guy."
I looked harder, scanning the entire length of the pool. "Oh yeah, now I've got him. Wow, that's a 20-inch fish if I ever saw one."
When I looked up, Tony was grinning at me. "No, not him, the big guy. Look in the trough just upstream of the…"
"The big orange rock," I said, finishing his sentence. I was getting excited.
"No, not him, that's just another 20-incher," he coached. "Watch the big orange rock." I blinked and the rock moved. The big orange rock was a brown trout of world-class proportions.
"Where are we?" I asked. "Am I really just an hour from my bedroom?"
Over the course of that day we took turns catching many of those fish, and I watched my friend stalk, hook and eventually lose a brown that was better than two feet long.
The year was 2007, and a few months later, I was contacted by one of the editors of a magazine I paint for. He said that, according to the Mayan Calendar, the world would end on the 21st of December 2012.
"You know what that means?" He asked, and then told me. "If you take one big fishing trip a year, you only have five more before it's all over. So, where do you want to go?"
"I need some time," I responded. "Let me think about it, and I'll get back to you."
It was a good question, and it started me thinking about what's really important about fly fishing.
If the end is near, and time is limited, do I want to blow it all on dream trips to exotic rivers I've never fished? I thought to myself.  Or should I revisit some places that have been important to me over the years, and fish them one last time as a way of saying thank you and goodbye? 
I decided that I'd like to do a little of both. Two of the five trips would be to places I've never fished, and the other three would be on familiar water. One of these trips would be close to home — to the Flambeau, Chippewa and Namekagon rivers in Wisconsin.
I'd lived just two hours from these rivers for almost 20 years and hadn't taken the time to really look at them, except from the highway as I sped to some other destination.
The opportunity to fish them came when friends, who once owned a fly shop in Hayward, Wisconsin, called with a proposal. "You mentioned that you've illustrated John Gierach columns for 16 years, and you've never fished with him," one said. "Here's your chance: he's fishing with us in June, and there's an open spot in the boat. Do you want to join us?"
We had three days of incredible fishing on three different rivers, and except for the odd canoe or two of Boy Scouts, we had the water entirely to ourselves. The forests framing the rivers were verdant with new growth and impressively serene. The water was exciting to fish.
We caught a lot of nice smallmouth bass, and I had a couple of muskies on my line that day! But, the best part of it, I decided, was the time I got to spend on the oars.
I hadn't realized how much I missed guiding until I took charge of a boat, and at the end of the last evening I turned to one of my friends and remarked, "This was so much fun.  I might have to come out of retirement and start working for you guys."
"Really?" he asked. "That'd be fun; let's do it!"
So, I started guiding again on some of the great rivers of northern Wisconsin — doing what I've always loved to do. It's great to be back on the sticks and spending so much time on the water; right in my own back yard.
I've decided that what's really important about fishing has nothing to do with how far I have to travel to get my feet wet.