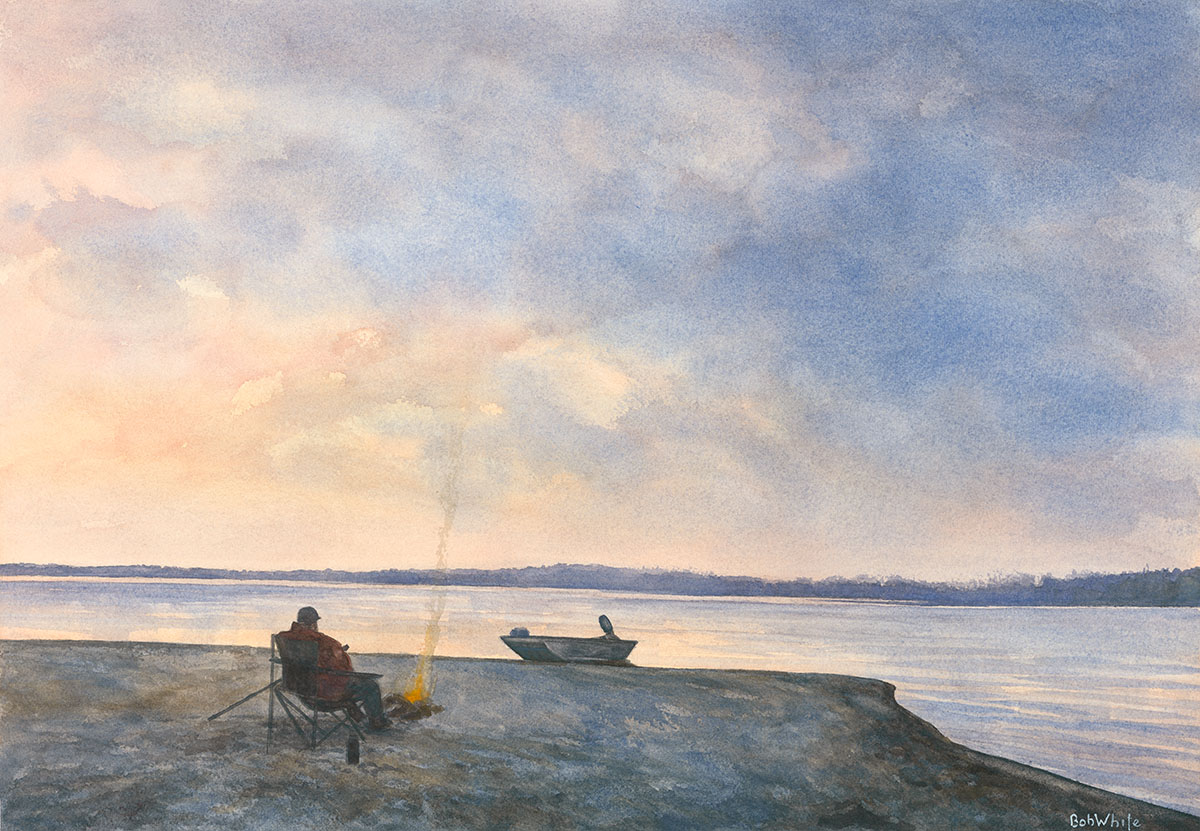 Why am I still doing this? I asked myself for the third time in as many hours since the alarm announced the beginning of another day. There was no need for an alarm; it served no real purpose. On the days when I guide I'm awake long before the cacophony.
It was an early flight to a nearby lake and the old de Havilland Beaver would take as much time warming up as we'd spend in the air. I'd pass the late autumn day with my old friend, Jim, who'd be about the same age as my father, if he were still alive. Whenever I fish with Jim, I'm humbled by his grace, his kindness, and particularly his appreciation for living in the moment.
Jim used to come north in a group of four, but he's alone now… two of his friends have crossed their last river, and the other one's knees gave out years before she reluctantly threw in the towel. Thinking of the others reminded me that Jim's remaining trips to Alaska are limited; this single day, these fleeting hours, may be the last time we fish together.
Because of the pandemic there'd been a cancellation, which resulted in an odd number of fishermen at the lodge. So, it was just the two of us for the day… and, a good thing, it takes a lot of work for Jim to get in and out of a float plane, and the boat, and for me to get him into a standing position to cast.
We fished a river mouth, where it emptied into the lake, and after catching a few good Arctic char, had our lunch next to a big fire. When he was rested and warm, I told Jim that the plan for our afternoon was to run upriver and hunt.
Word around the lodge was that there was a huge rainbow below a certain snag… and we found it. We worked that fish for three hours. Every time I'd set up the drift Jim would step on his line, catch a loop, or hook himself. Whatever. It was of no consequence because I knew in my heart we'd hook the fish. I believed this was supposed to be. That it had been cosmically ordained because this might be our last time together in Alaska.
But, time was short and another drift meant we'd be late for our pick-up. While pilots generally don't like to be kept waiting, it was a milk run in good weather, and most importantly, ours was the final flight of the day.
For the last drift, Jim struggled to his feet (I was afraid he'd tumble out of the boat… what then?). He stood, made the perfect cast, and I watched a miracle happen. The big fish took his fly and we fought it down the river, to the lake below, where we landed her. A thirty-one-inch rainbow, in a place she should never have been… and was meant to be.
What a wonderful gift. I was dumbstruck, and then it came to me… why I still do this.