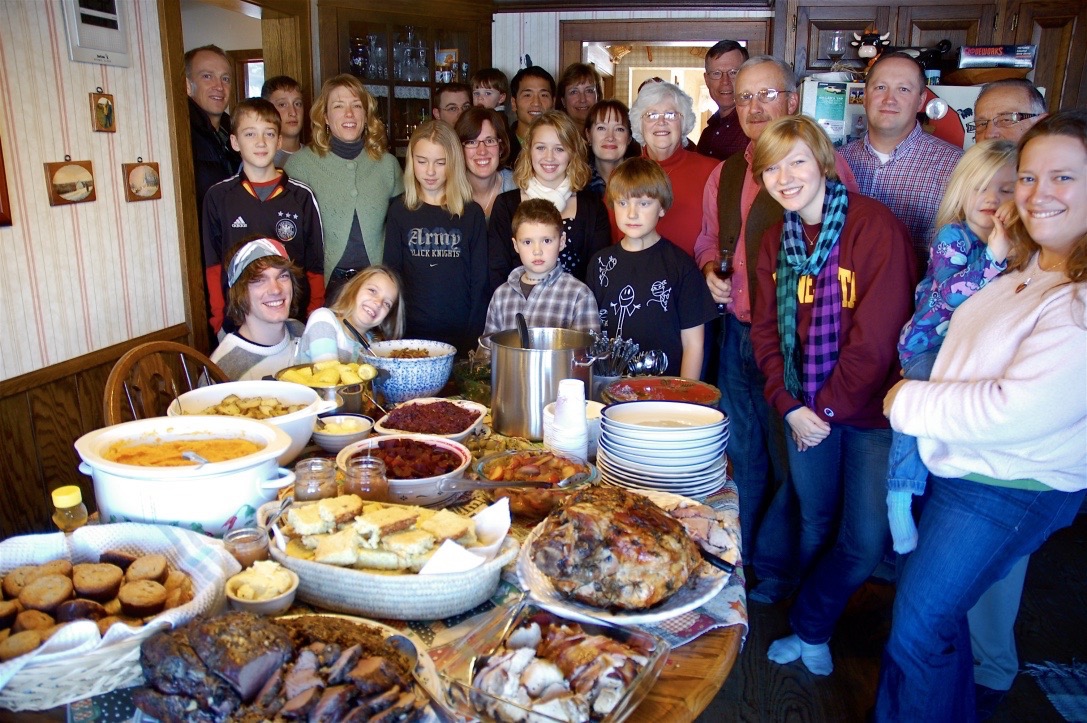 Many years ago, as the late autumn shadows crept across the backyard woodlot, Lisa appeared with a glass of well water to slake my thirst and signal the end of the workday. It was time for dinner, and afterwards, all the preparations that proceed Thanksgiving at her family's organic dairy farm.
Dawn the next morning found me hidden in cattails next to a flooded pasture with Lisa's father. Dave had watched a growing bunch of mallards feeding there for the past several days and had suggested that Lisa and I arrive at the farm before dawn; with a shotgun and a sack of decoys.
Dave and I shot well, and as we walked back to his truck with a limit of drakes I suggested that it'd be nice to roast these ducks for our Thanksgiving dinner and serve something that we actually came by on our own accord.
"Well," he said thoughtfully, "The turkey we'll eat is from the farm, but I see what you mean."
"Wouldn't it be a lot of fun," I asked excitedly, "If we all agreed that everything served at Thanksgiving next year was grown, harvested, or foraged by members of the family?"
"Between the farm, all of our gardens, and all the hunting and fishing we do, it shouldn't be too difficult," he replied and then mused, "Grandma Florence will have a hard time not putting oranges in her cranberry relish."
"I'll make the wine, and some hard cider from our orchard," I suggested. "If we start in on it early enough, maybe Grandma will forget."
"Let's run it past the family after every ones' belly is full of turkey and they've had a few glasses of wine," Dave wisely proposed.
As predicted, the idea was universally agreed upon (with only mild protest about the prohibition of orange zest in the cranberry relish) and we made a list of what each family would contribute to next year's "homemade" Thanksgiving dinner.
"That was fun," Lisa sighed late that night as we finally turned down the street to our snug home. "What a great idea Dad had about next year's dinner."
---
Postscript – The homemade menu included…
Venison roast with wild mushrooms. Deer killed by Dan Minar of New Prague; mushrooms harvested by Dave Minar; roast prepared by Ron Huff of Minneapolis.
Pork roast with garden herbs. Free-range pig was raised by Florence and Dave Minar; prepared by Ron Huff.
Wild turkey breast. Turkey killed by Josh Alters of North Hudson, WI.
Squirrel booya. Squirrels killed by Bob Whitcraft of Andover, prepared by his wife and son, Faith and Alex Whitcraft.
Sweet and sour red cabbage and beets. Grown by Florence and Dave Minar, prepared by Florence.
Roasted potatoes with herbs, baked squash with homemade butter and corn on the cob. Vegetables raised by Mike and Merrisue Minar of New Prague and prepared by them.
Green beans and tomatoes, sautéed kale and cornbread. Grown by Chris and Linda Minar of New Prague, prepared by Linda.
Popovers. Wheat planted and harvested by Dave Minar; popovers made by Laura and Eric Ganske of Belle Plaine.
Serviceberry pie. Serviceberries grown by Dave and Florence, prepared by Florence.
Boxelder syrup flan with a hazelnut crust. Syrup from trees in the yard of Bob and Lisa White of Marine on St. Croix; cream from Cedar Summit Dairy; hazelnuts from Dave and Florence's shrubs, prepared by Lisa White.
Rhubarb and rhubarb/serviceberry wine. Made by Bob White and Josh Alters from rhubarb grown by Bob and Lisa White.
Hard cider and grape wine. Josh and Michelle Alters harvested grapes and apples and made the cider and wine.
Chris Niskanen wrote an article about the meal that was published in the Saint Paul Pioneer Press. You can read it here.