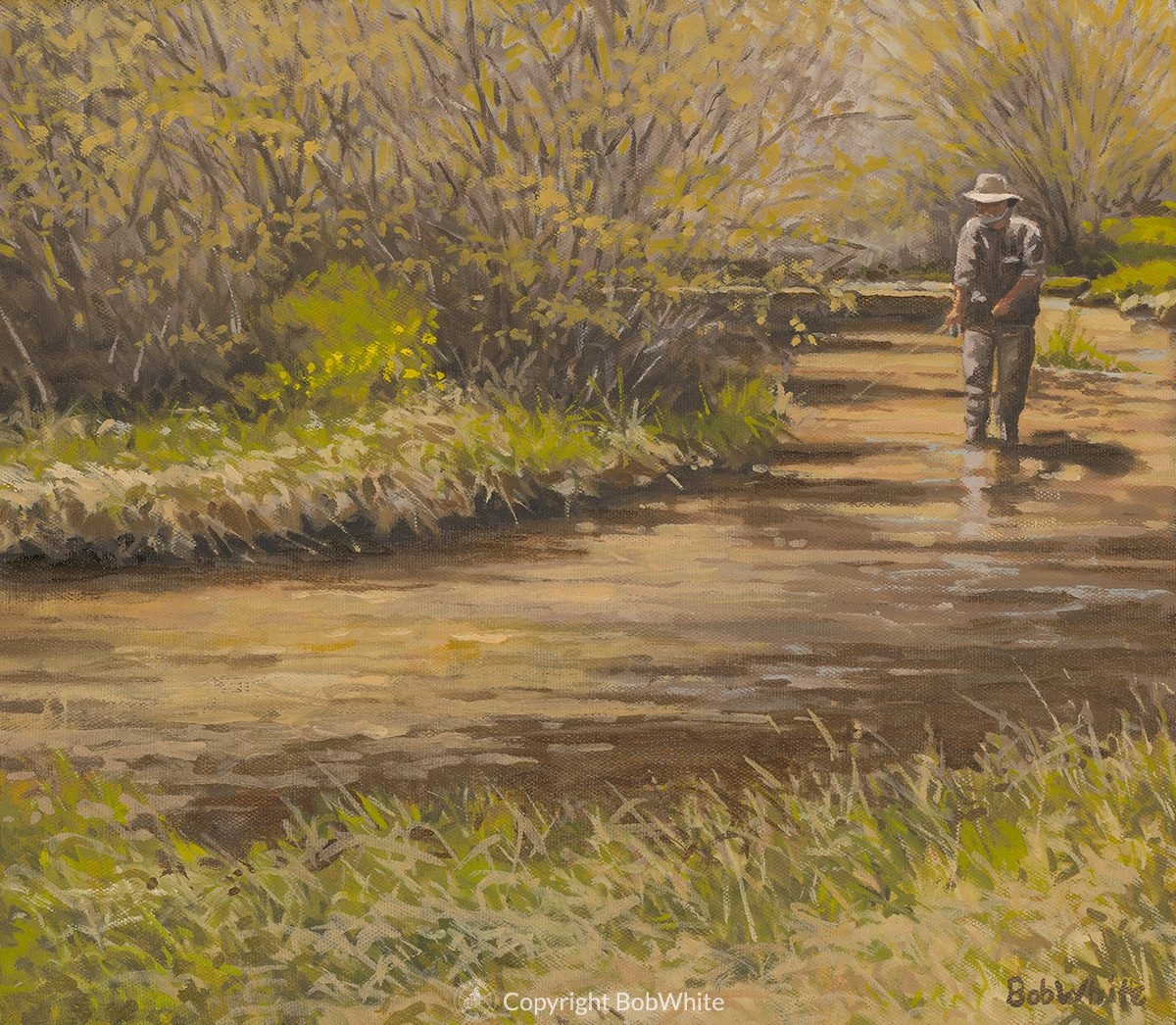 "A poem is never finished, only abandoned."
~ Paul Valéry
The poet Paul Valéry once remarked that, "a poem is never finished, only abandoned." I feel the same about my paintings. Our home is full of our favorites and it's not uncommon for me to, after years of contemplation, snatch one off the wall, carry it up to the studio, and make some small correction or edit that no one else will ever notice… except for me!
One of the joys of illustrating another author's short story or essay is that I'm often called upon to create an image I might not have otherwise considered. The perfect illustration for an essay may not, however, satisfy my final vision for the painting. In these cases, I paint for the story first (that's my job, after all), have it photographed for the editor or art director, and then satisfy my vision for the piece with a final iteration.
Last spring, our good friend John Gierach, wrote an essay in which his fishing partner's young Labrador played a major role. Accordingly, "Buncie", the star of the essay, was front and center, watching John drift his fly over a fish that would be just under the high bank on which he stood.
While the image properly illustrated the story, it seemed a bit clunky to me, and when John commented that no fish would ever rise to a fly with a dog standing over it, the decision was made to paint out the pup. Sorry, Buncie!
The edited painting is much more pleasing to my eye and, I believe is more successful as a stand alone image.
Later in the year, John wrote an essay about a rather odd habit that some of his neighbors have. It seems that in the weeks leading up to Halloween, they begin placing pumpkins along one of the rivers he frequently fishes. They're placed everywhere; along the shore, upon midriver rocks, and high on the bluffs overlooking the watershed.
I immediately thought of Jamie Wyeth's fascination with pumpkins and his famous painting, "Pumpkin Head" with its delightfully sinister jack-o-lantern grin. In homage to Wyeth, I decided to illustrate John's essay with a moody river nocturne within which pumpkins had been carefully placed. There was just one hitch; in John's essay, the pumpkins didn't have faces carved in them.
While John graciously gave me the creative leeway to paint my pumpkins with faces, Lisa talked me out of it. The image was painted true to John's recollection, and was duly photographed for the editors of TROUT, the magazine in which it was to be published.
Soon after the image was electronically sent along to the magazine, the physical canvas was back on my easel where I gleefully altered the image. In retrospect the pumpkins seemed too big and bright; they were reduced in size and their values darkened to better harmonize with the whole. Certain branches seemed a bit awkward and they were rendered more supple… and the amusingly creepy face was painted on the pumpkin central to the composition.
Eventually, I'll probably "light" a candle in the pumpkin!