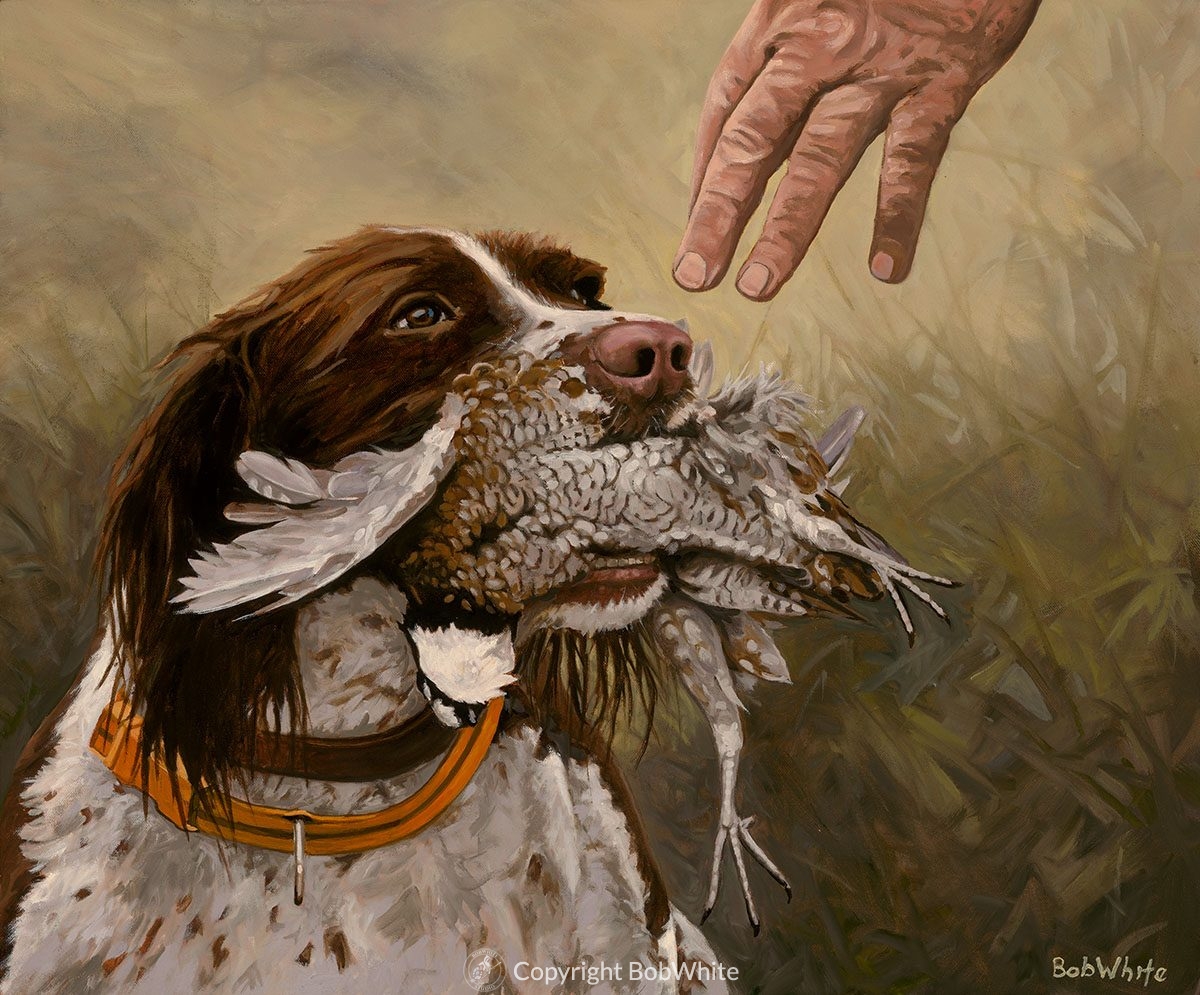 "Old age means realizing you will never own all the dogs you wanted to."
~ Joe Gores
Dogs have always had a very special place in my heart. Like most people my age who grew up in the country, my childhood was made richer by the dogs I knew. I can't remember ever not having a dog in my life. As a boy, when I began painting, one of my first subjects was the family collie asleep in front of the fireplace.
It wasn't until college called me away from home that I found myself dog less. That was remedied the day my mentor gave me his Brittany spaniel. On a perfect autumn day, after Phil's dog had fetched a ruffed grouse he'd just cleanly shot, he announced that at his age he that didn't have many more days left in the woods, and that if he was to have a last hunt… he couldn't possibly pick a better one. He opened his shotgun, extracted the shot shells and handed it to his son. "This is yours now," he said. "shoot it well."
Then he turned to me and spoke gently, "Patrick's a fine dog who deserves to be hunted. I know you two will be friends, Bob, he's yours now."
That was half a lifetime ago, but I remember it as if it was yesterday. Patrick and I did become friends, the best of friends, and one of the saddest days of my life was when I lost him. While I have photographs of Pat, I never did a painting of him; a regret which I still carry with me.
Since then Lisa and I have been fortunate to share our lives with a lot of fine bird dogs, and I've made it a point to paint them all. Our dogs, and those of our friends, have modeled for dozens of commissions and paintings, that are often used to illustrated books, magazine covers, columns, and articles. I've also painted quite a few dog portraits over the decades, and not all of those are of bird dogs.
Whenever I paint a dog I endeavor to capture and express the relationship between them and their people. Sometimes the bond is communicated in the posture and body language of dog and hunter. In portraits, the connection it's almost always conveyed in the dog's eyes.
Here are a few of my favorites…